Monica Nuñez
Monica is a 2018 Masters of Environmental Management candidate with a focus on Policy Analysis and Evaluation. Her past experience includes working for the Peruvian Government on capacity building and performance evaluation of environmental authorities at the local, regional and national levels; and acting as legal counsel for projects in the energy, infrastructure and agricultural sectors, among others. Monica has extensive experience in the mining sector, most recently collaborating with WWF Beijing on the implementation of the Chinese Chamber of Commerce's (CCCMC) Guidelines for Social Responsibility in Outbound Mining Investments. She holds a J.D. from the Pontificia Universidad Católica del Perú, and is Fulbright Scholar at the Yale School of Forestry and Environmental Studies.
Diego Manya
Diego Manya is a Master's of Environmental Management Candidate 2018 at the Yale School of Forestry and Environmental Studies. He is interested in integrating environmental, social and economic data to inform public policy, with an emphasis in monitoring and evaluation. He holds a Bachelor of Science Degree in Environmental Engineering from the UNALM in Peru, and has worked in the private sector and as well as with international organizations in LATAM. His interest in region revolves around the increasing urbanization, and the role that evidence-based public policy can play in increasing sustainability in urban settings.
Camilo Huneeus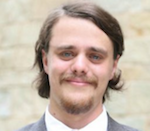 Camilo Huneeus is a Chilean industrial engineer pursuing a Master of Environmental Management at Yale. From a system dynamics perspective, he is interested in both water management and disaster risk reduction. He is currently working in a UNEP project on Electromobility Policy in Colombia and in transboundary flood resilience in India and Nepal. Prior to coming to Yale, Camilo worked as a Wastewater treatment engineer and as an advisor on Social Economy to the Chilean Ministry of Economics
Anna Cárcamo
Anna Maria Cárcamo is a Brazilian lawyer and first-year Master of Environmental Management student at the Yale School of Forestry & Environmental Studies. Her main interests are International Environmental Policy, Communications and Environmental Justice. At Yale, she works at The Forests Dialogue, is a leader at the Latin America Student Group and Digital Marketing Assistant at the Yale Environment Review. Before coming to Yale, she earned a Law degree with a minor in International Politics in Rio de Janeiro, Brazil. She specialized in Constitutional Law, researched Environmental Law and also studied screenwriting. She worked for two years with Environmental Law, in a law firm and at Rio de Janeiro's Prosecution Office. Throughout these experiences, she became aware of the extent of environmental injustices and her goal is to make environmental policies more effective and socially responsible.